Guided Olomouc bike tours
---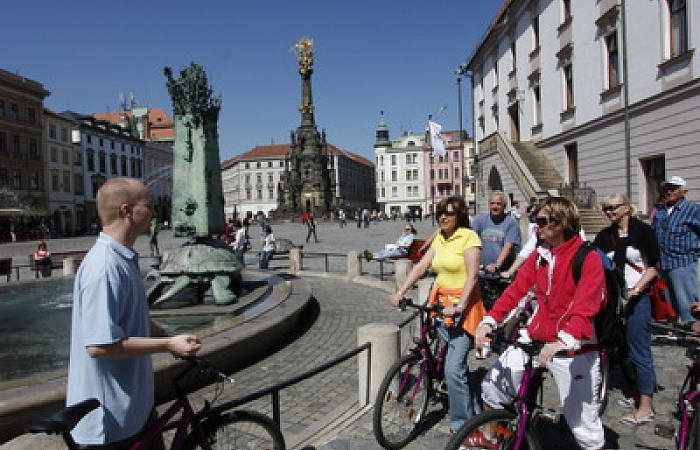 Our cycling tour has two options, the tour A and tour B. The both tours will take you through the most beautiful parts of the city and they only differ in the length of the trip (in time and distance). The cycling trip will allow you to see the most interesting places in Olomouc and the knowledgeable guide will provide you with the most interesting information at individual stops during the trip.
Often you will learn about the life long time gone and the stories associated with it. There are about 20 stops during the trip that will include the most historical places, i.e., churches, fountains, columns, fortifications and others. The path will also lead you through the Olomouc beautiful parks. Stopping at a typical local restaurant and experience their specialties along with the famous Czech beer (both not included in price) will only enhance you biking experience.
The tours are designed to follow the cycling paths and the less traveled local roads and streets. *Tour A* - this is the longer tour, where you will visit the Cernovir's moor and see one of the most significant pilgrimage places in the Czech Republic, the Holy Hill and its church, basilica minor. This trip takes approx. 4 hours and is 18 km (11.2 miles) long. *Tour B* - this tour takes approx. 2 hours and is 9 km (5.6 miles) long. Due to the time constraint, you will be unable to enter any of the historical buildings along the path.
What will you see?
Olomouc's parks and gardens (named after Bezruc, Smetana and Cech)
Premyslids' castle with the St. Wenceslas Catherdral - the National Cultural Treasure
Cloister Hradisko - the National Cultural Treasure
Nature trail through Cernovir's moor (only Tour A)
Pilgrimage place Holy Hill (only Tour A)
Baroque fountains and columns - the National Cultural Treasure
Holy Trinity Column - registered by UNESCO
St. Moritz church - the National Cultural Treasure
Olomouc's medieval town hall with its astronomical clock
How to order?
All reservations must be made in advance.
• in person at the Perej tours office or at the Olomouc Information Center
• by phone at the Perej tours office, tel.: +420585 313 176, +420 737 514 359 or at the Olomouc Information Center, tel.: +420 585 513 385 or +420 585 513 392
• through the reservation system at http://www.olomoucbiketour.cz

In all cases it is required to pay the full price of the trip at the time of reservation. However, you may cancel up to 72 hours prior to the beginning of your tour and the full amount will be returned. In case your reservation is cancelled less then 72 hours prior to your trip, your deposit can not be refunded as we must cover our costs. Max. number of trip participants is limited to 15 people, min. number is 4!
Other activities
Cyclotourism
Tipy v okolí
---
Turistické cíle
Accommodation
Where to eat and drink
Akce